https://www.facebook.com/events/1377285132542689/
We had a great time at our Pinot's Palette event!!
https://www.facebook.com/events/647876741924803/?ref=22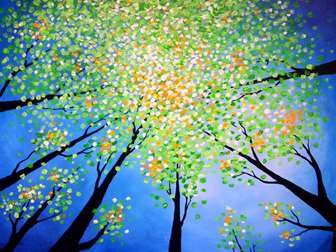 Thursday, February 27
RACE Dance Spring Fundraiser
Private Party
Spring is in the Air
7:00-9:00PM
There's no need to bring your allergy meds to this full on springtime eruption. A look up into the trees shows an explosion of bright leaves contrasting against the crisp spring sky. It's an eye-popping image with full color and fun.
Class Description:
In its' 5th successful season, RACE Dance continues to entertain Oklahoma audiences with shows like the Hip Hop Nutcracker, Racey Show and this season's newest show, gRACE Trumps! Be a part of an evening of art and wine, meet the Creative Directors and RACE Board members, and contribute to the arts in Oklahoma. Your $50
Upcoming Events & appearances 
We had a great time in Film Row!  Check out our performance & let us know if you want us to flash mob your event!!  We will be back down there for Halloween!
October 11th & 12th:
Oklahoma High School Dance Festival
at Bishop McGuinness High School
October 19th :
November 1:  
Watch our video from our auditions in August for the 2013-2014 season!!    Audition video